Panel:

 Bias, Ethics, and Safety

Event:

"As Artificial Intelligence (AI) begins to percolate into our everyday lives, we must take a step back to think about the effects of such technologies on our lives.

How does AI embody our value system?

Whose interests are advanced by an AI system?

Do AI systems learn humanly intuitive correlations? If not, can we contest the system?

We aim to explore these pressing normative questions to deep dive into AI + Society. Specifically, we will discuss the questions AI raises regarding bias, ethics, and privacy, and we will explore what a fair, accountable, and transparent AI system looks like.

Join us to hear from academic experts, industry leaders, and many others with experience fusing AI into society."
Schedule
6:00-6:30pm : Arrivals/Networking
6:30-6:35pm : Opening Remarks
6:35-6:50pm : Case Study: Homeless Youth
6:50-7:35pm : Fairness, Accountability, Transparency Panel + Q/A
7:35-7:55pm : Intermission
7:55-8:10pm : Case Study: Ethical Preferences
8:10-8:55pm : Bias, Ethics, Safety Panel + Q/A
8:55-9:00pm : Closing Remarks
9:00-10:00pm : Reception – True Foods Kitchen + Pali Wines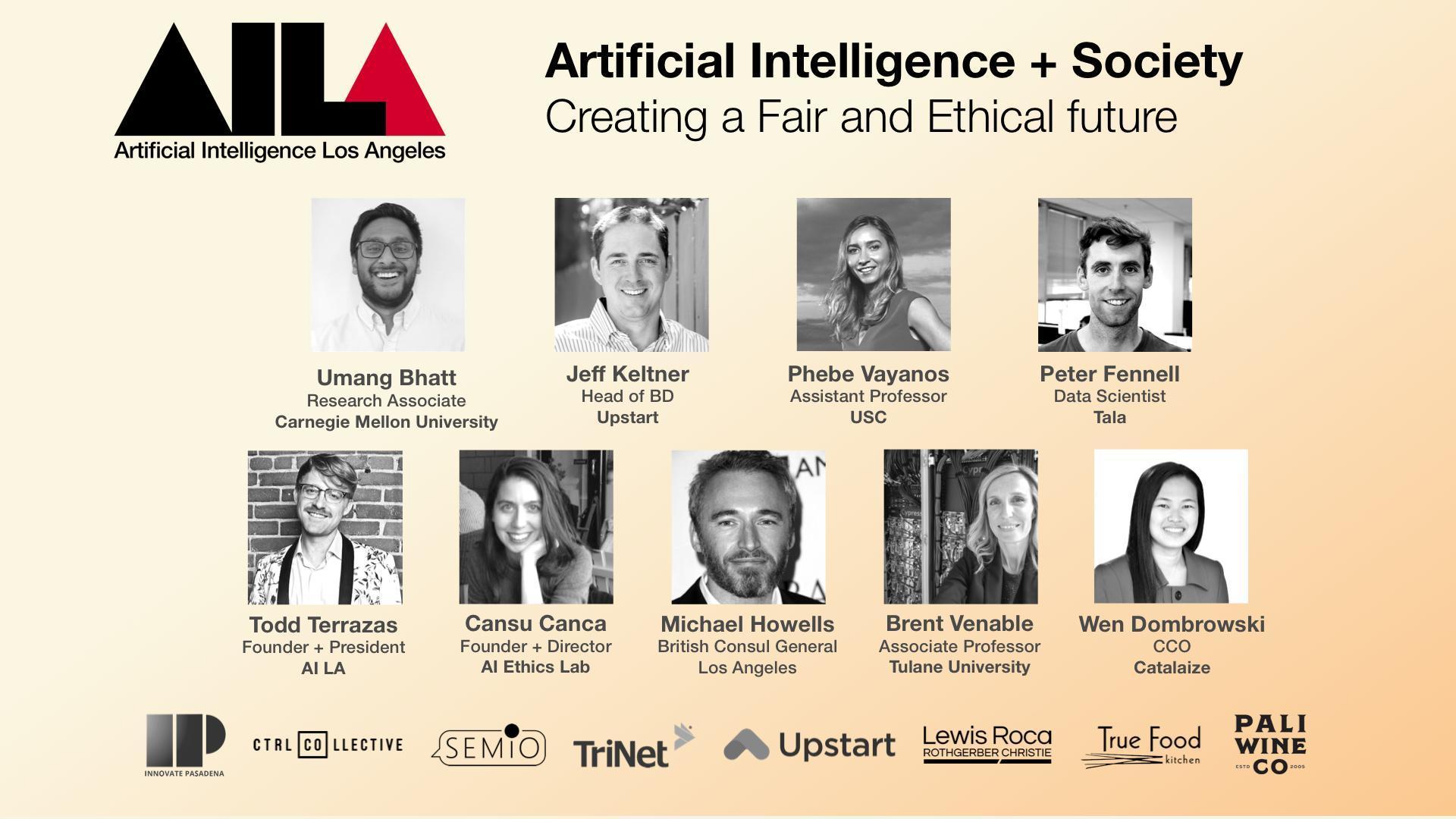 Speakers 
Phebe Vayanos is Assistant Professor of Industrial & Systems Engineering and Computer Science at the University of Southern California and Associate Director of the Center for AI in Society at USC.
Brent Venable is a professor of Computer Science at Tulane University and Research Scientist at the Florida Institute for Human and Machine Cognition (IHMC). 
Michael Howells is a British diplomat and Consul General in Los Angeles.
Jeff Keltner is head of Business Development at Upstart.
Cansu Canca is the founder and director of the AI Ethics Lab.
Wen Dombrowski MD, MBA is a physician and technology executive that has been actively engaged in Science and Technology Ethics and Policy for two decades.
Dr. Peter Fennell is a Data Scientist at Tala where he uses A.I. to build credit and fraud models for Tala's global markets.
Host
Todd Terrazas – AI LA Founder & President
Moderator 
Umang Bhatt is a graduate student in Electrical and Computer Engineering at Carnegie Mellon University.
.
AI LA is partnered with Innovate Pasadena during Connect Week to provide an open and inclusive platform to discuss AI and its impact on humanity.
AI LA Community, Inc. is a California Non-profit."
DATE AND TIME
Thu, October 25, 2018
6:00 PM – 10:00 PM PDT
.
LOCATION
CTRL Collective
45 South Arroyo Parkway
Pasadena, CA 91105
.
.
.